Gin-For's Odditiques
(GINny and FORrest Poston's Oddities and Antiques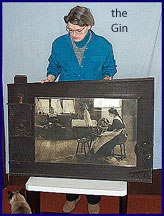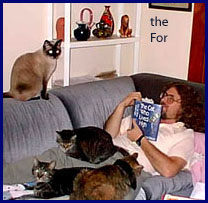 (Cats and batteries not included.)

E-mail
About Us/Contact Information

Get to know us a bit by watching this video:

West and East German Ceramics:


Bay, Carstens, Ceramano, etc.

Dresler/Grootenburg, Dümler & Breiden, ES Keramik, Gramann/Römhild Topferei, Hoy, etc.

Hutschenreuther, Ilkra, Jasba, Jopeko, Kaiser/Alka Kunst, Otto Keramik etc.

Ruscha, Sawa, Scheurich Keramik, etc.

Steuler, Studio, Ü-Keramik, van Daalen, etc.
View West German Pottery by Colors:


Art Pottery and Porcelain (Bertoncello, Niloak, Nippon, Limoges, Sarreguemines, Haviland, Waco, more)

Glass (Cut glass, art glass, Fenton, Erickson, opaline, Kralik, Harrach, Victorian, slag glass, more)

Paintings, Prints, etc. (Edgar Bundy, John Pettie, Michel Kady, more)

Metalware and Misc.
Essays and Other Material

Meet our "staff "

A Special Farewell to a Staff Member
The Cat with a Bucket List




This site is a member of WebRing. To browse visit here.
E-Mail

We've been in business since the early 90s, and our guarantee has always been simple. If you aren't happy, we aren't happy. If you buy an item and don't like it, ship it back. You'll get your original cost back, so all you risk is the cost to return the item. If we make a mistake in the description, then we'll pay that cost, too. If you're allergic to cats, we don't guarantee that our packages won't make you sneeze. Things around here are cat tested, cat approved.

These days, Paypal is about the easiest payment method around, but we still take checks, even cash. No Monopoly money, nothing printed up in your basement, no chickens, etc., but otherwise we're fairly flexible. If we can put it in the bank without anyone getting in a tizzy, we'll probably take it.

Please take time to stroll through the site. Sorry we can't offer you a cup of coffee or tea while you're looking, but maybe you can take care of that yourself. Just don't spill it on the keyboard. And if you run into any questions along the way, there should be an e-mail link on every page, so just click and ask.

Hope you'll enjoy our "sing the body eclectic" approach (with apologies to Walt Whitman). As always, proceeds go to support our creditors, my spouse, our cats, my auction addiction, and the plumbing project that never ends.