This unusual vase was made by Ilkra in 1963 and designed by K.Schwebsch as part of the "Panorama" series (believed to include 5 vases, each representing a continent). It features a wide variety of motifs that capture various aspects of US life and history. I'm not sure if any of the motifs are aimed at the rest of North America. The primary image is the Statue of Liberty, but there are also musicians, baseball players, cowboys and cows, arrows, a teepee, oil rigs, someone basking beneath a palm tree and several other images. Shape number is 1033. This is a rather hard item to find as well as neat. (Thanks to Volker Hornbostel and Ralf Schumann for information on this one....a tricky attribution.)
Size: Height is about 10".
Price: $125 plus shipping and insurance.
Shipping will depend on location. Contact us for a quote.
Condition: very good with a couple of minor, hard to find flakes...pictured. All sales are fully guaranteed.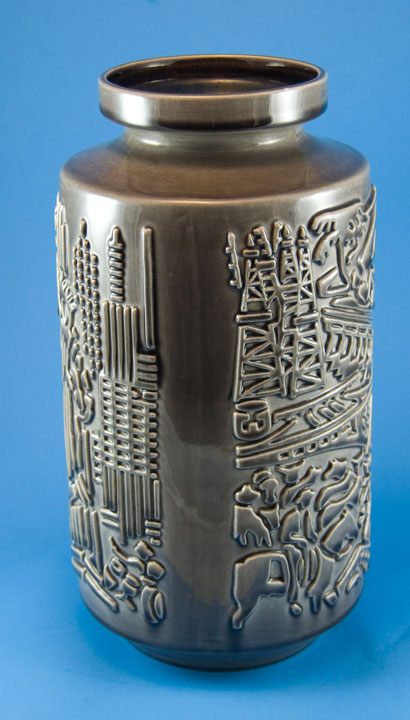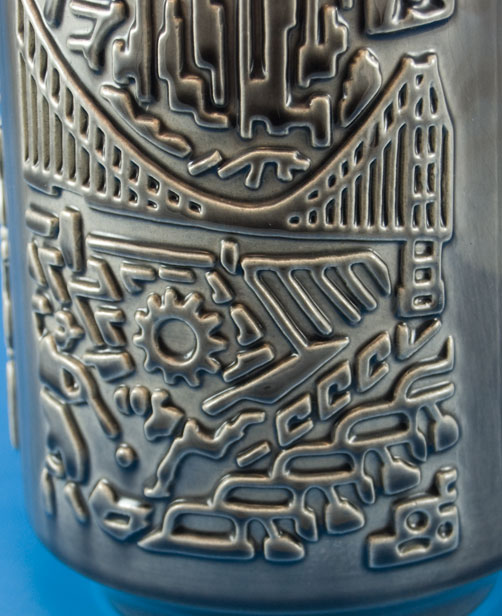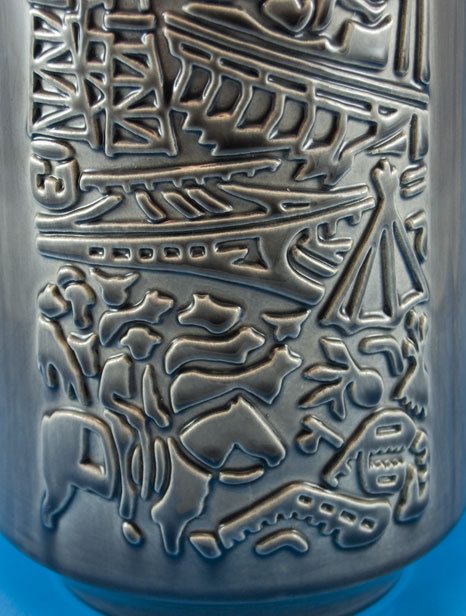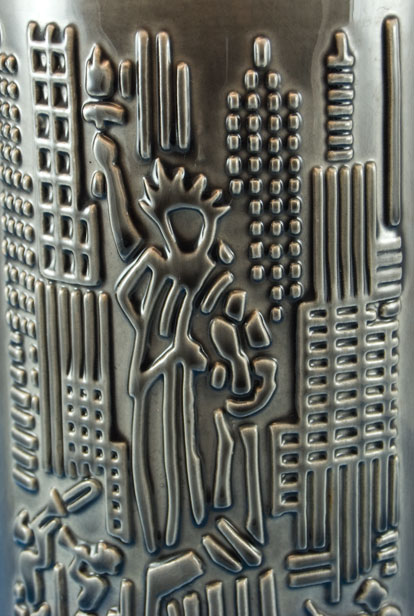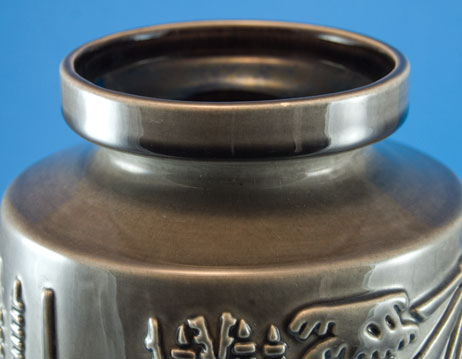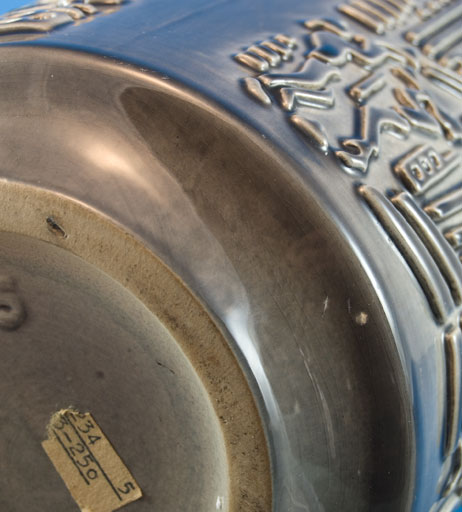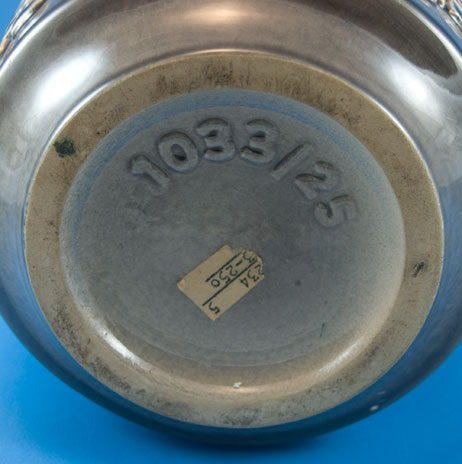 Questions, Comments, or Purchase Take Us on Back a Page PleaseHome Page
Buying, Paying, and Such Things
You may notice that we don't have a checkout where you can just click for your goodies without so much as saying hello. Well, we want people to say hello, ask questions, even hope for a better deal. Long ago, I told stories for 7 hours (free refills on coffee), so "impersonal" just isn't my style. Click on one of those "E-mail" buttons. I can't handle as much coffee as I used to, so the stories will be fewer.
These days, Paypal is about the easiest payment method around, but we still take checks, even cash. No Monopoly money, nothing printed up in your basement, no chickens, etc., but otherwise we're fairly flexible. If we can put it in the bank without anyone getting in a tizzy, we'll probably take it.
Please take time to stroll through the site. Sorry we can't offer you a cup of coffee or tea while you're looking, but maybe you can take care of that yourself. Just don't spill it on the keyboard. And if you run into any questions along the way, there should be an e-mail link on every page, so just click and ask.
Hope you'll enjoy our "sing the body eclectic" approach (with apologies to Walt Whitman). As always, proceeds go to support our creditors, my spouse, our cats, my auction addiction, and the plumbing project that never ends.
Bay, Carstens, Ceramano, and Others
Dümler & Breiden, ES Keramik, Others
Gramann (Töpferei Römhild), Others
Ilkra, Jasba, Jopeko, Karlsruhe, Marzi & Remy, and Others
Otto Keramik
Ruscha, Sawa, Scheurich and Others
Schlossburg, Silberdistel, Steuler, and Others
What's "Gin-For"? Strictly medicinal purposes.