Here's one of those pieces that helps us earn the "Odd" in Odditiques. This charger or plaque was made by Utzchneider & Co. in Sarreguemines, France around the turn of the century, but that's certainly not the odd part. The scene shows a German or Alpine beer garden, all nicely idyllic right down to the birds in the arbor. We have one guy with a pipe and hassling the server, one guy passed out while the server still pours him more beer, one guy off to the side not looking too happy, and a glass and cards littering the ground. Okay, nothing new in all that......until you pay attention to scale and detail and realize that these appear rather childlike. I don't know why they did it or what tradition they're playing with, and I'm sure people would through an absolute fit if a pottery produced this plate today, but it's still a quirky delight. You can have fun inviting friends over and waiting to see if they notice. The primary decoration is transfer. It looks like there's some handcoloring, but I think that's more illusion and wishful thinking that reality. The metal rim is non-magnetic and fairly thin but has a neat Greek Key variant in the openwork. The metal rim is a bit of a mystery for me. Something had been splattered on it in the past, so it had to be cleaned. It doesn't shine up like silverplate but shines up more than pewter. It could be aluminum, which would be unusual for that time.
Size: HThe ceramic portion of this piece has a diameter of about 10" and the total with the trim is about 12 1/2".
Price: $95 plus shipping and insurance.
Shipping will depend on location. Contact us for a quote.
Condition: very good on the front, but there is a chip on the back. It doesn't hurt the aesthetics at all, and it also still hangs with no trouble. Of course, all sales are fully guaranteed.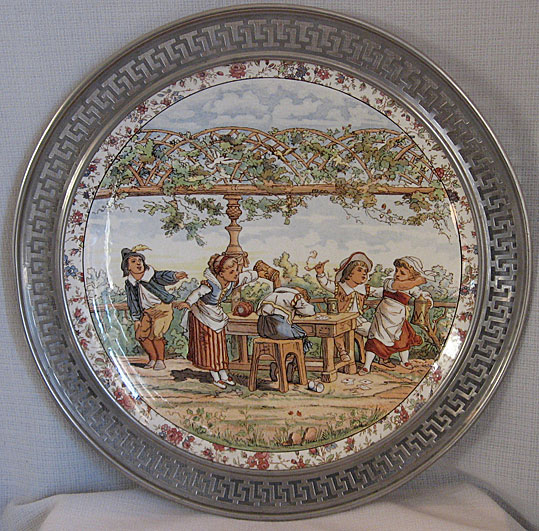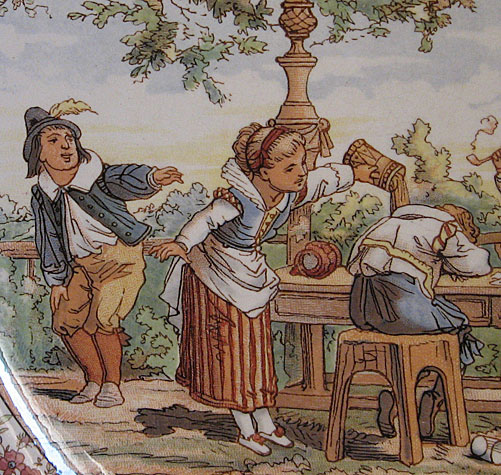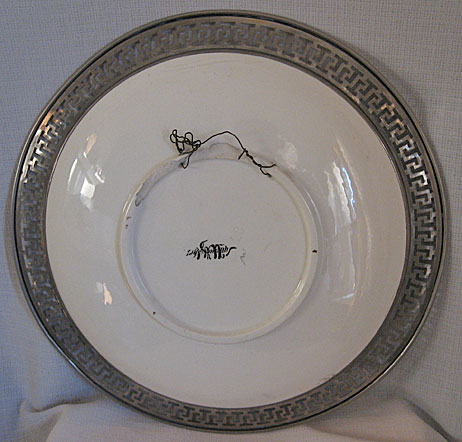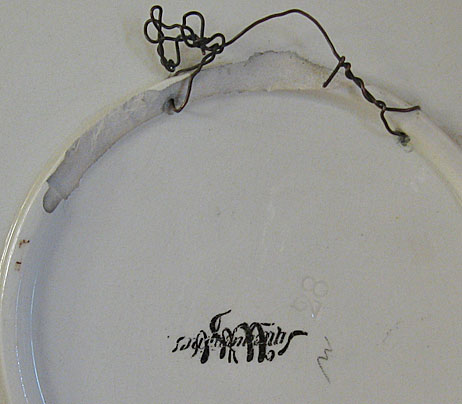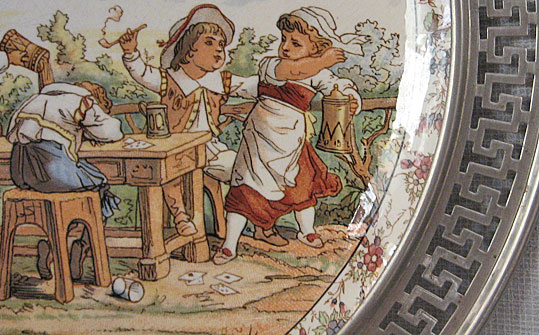 Questions, Comments, or Purchase Take Us on Back a Page PleaseHome Page
Buying, Paying, and Such Things
You may notice that we don't have a checkout where you can just click for your goodies without so much as saying hello. Well, we want people to say hello, ask questions, even hope for a better deal. Long ago, I told stories for 7 hours (free refills on coffee), so "impersonal" just isn't my style. Click on one of those "E-mail" buttons. I can't handle as much coffee as I used to, so the stories will be fewer.
These days, Paypal is about the easiest payment method around, but we still take checks, even cash. No Monopoly money, nothing printed up in your basement, no chickens, etc., but otherwise we're fairly flexible. If we can put it in the bank without anyone getting in a tizzy, we'll probably take it.
Please take time to stroll through the site. Sorry we can't offer you a cup of coffee or tea while you're looking, but maybe you can take care of that yourself. Just don't spill it on the keyboard. And if you run into any questions along the way, there should be an e-mail link on every page, so just click and ask.
Hope you'll enjoy our "sing the body eclectic" approach (with apologies to Walt Whitman). As always, proceeds go to support our creditors, my spouse, our cats, my auction addiction, and the plumbing project that never ends.
West German Pottery Page One
Glass For Sale
Art Pottery and Porcelain
Paintings, Prints, Etc.
Metalware & Miscellany
What's "Gin-For"? Strictly medicinal purposes.