Reputation, Reality, and Respect: Sorting Out West German Pottery by Forrest D. Poston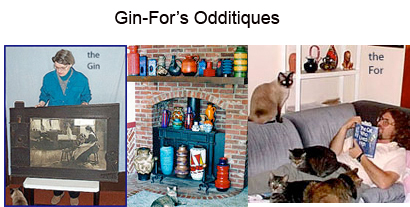 (Most of this essay is in the Fall/Winter issue of the American Art Pottery Association journal. The title there is "Chaos Theory in Clay: Making a Little Sense of West German Pottery". It appeared in Sept/Oct 2004, vol. 20, No. 5, pp 18-22. )

(Special note: This essay is now several years old, and West German pottery is a young, fast-changing field. Don't take this information as absolute. Some of the other essays and videos on this site are more up to date.)

West German pottery has been showing up in antique malls ever since I've been part of the antiques game, going back to about 1991. However, most of what people were finding was really the tourist ware, items made rather quickly, and often a bit sloppy, to please the flood of Americans passing through Germany in the 1960's and 70's. While there were much better pieces being sold in upscale department stores, most of the best work seems to have stayed in Germany. Since only the lesser works became generally known, West German pottery gained a reputations as funky and fun but not anything for a true collector. Even now that the better pieces are getting attention, that early reputation is holding back the market, keeping the prices lower than comparable work from England, Italy, or various Scandinavin countries.
As a result, West German pottery has become a well-known secret: everyone knows it's there, but no

one really knows quite what it is. Part of the problem is that we use the term West German pottery as if it meant something specific, even if we never knew what that specific was. In terms of history, it simply means pottery made beginning a few years after World War II (after the zones became defunct) and up until about 1989 with the tearing down of the Wall and the coming of reunification. In collecting terms, the primary era was from about 1954 until the mid or late 70's. During that stretch of just over 20 years, there were several dozen companies producing a wide array of pottery, including a dozen or more that should be considered major players. That adds up to a variety and quantity of forms, glazes, and combinations that may surpass any other 20 year period in any country.
Influenced by glass designs from Murano, some German potters began experimenting with more organic, often asymmetrical designs. This was driven primarily by studio potters (especially Richard Uhlemeyer and Richard Bampi) at first, but Rosenthal and a few others were introducing "modern" designs by 1950. But the explosion began in 1954 when Ruscha introduced form 313, an elegantly exaggerated pitcher form designed by Kurt Tschörner (also spelled Tschoerner). Showing much the same Bauhaus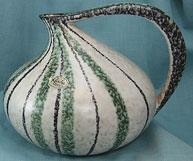 influence found in Roseville's Raymor line and much of the work from Russel Wright, the form was extremely successful and was produced with numerous glaze treatments for many years. Also in 1954, Ruscha introduced the decorations "Domino" and "Milano" with Bay Keramik introducing Florenz in 1955 and Remo in 1956. With Ruscha and Bay leading the way, the collectible West German era had begun.
Variety in form and decoration continued to grow, but by around 1975 the glory days were ending. Of course, excellent work was still being done, but many of the major companies were gone. In 1971, Bückberg and Keto both closed, followed by Kiechle in 1972, ES Keramik in 1974, and both Schlossberg and Clemens & Huhn in 1975. Carstens and Ceramano both closed in 1984, and the special vitality was reduced to a more common standard.
COMPANIES and DESIGNERS
In the early years, Bay and Ruscha dominated the field with ES Keramik, Lindner, Dumler & Breiden and others just a half step behind. Scheurich Keramik began in 1954, quickly becoming a major producer and eventually the largest producer of commercial art pottery in Germany. By the mid 60's Carstens and Ceramano were also producing work of a high level. Just a few of the other notable companies include Bückberg, Fohr, Grootenburg, Hutschenreuther, Jasba, Karlsruhe, Keto, Kiechle, Rosenthal, Sawa, Schlossberg, Sgrafo, Steuler, Strehla, Ü-Keramik, van Daalen, van Eyk, and Wachtersbach. Many others deserve mention, but this list is based on items that have come to the market most often so far.
Only a handful of designers and lines have been documented, and those are limited to work done by about 1964. The glaze/decoration designers have so far gained more recognition than those who designed forms, with Tschörner a worthwhile exception. The best known name is Bodo Mans, who worked for Bay and produced colorful designs such as "Reims" in 1960 and "Ravenna" in 1961. Many of his designs used stronger, more saturated colors compared to other works, and many could be taken as Italian work if not marked, especially the geometric abstract design of Ravenna.
Primary decoration designers for Ruscha were Cilli Wörsdörfer (Domino, 1954), and Hans Welling (Monaco and Morocco, 1956). Perhaps the most noted was Adele Bols, who designed the short-lived, work-intensive Filigran line. Hans Welling also worked for Keto and later for Ceramano (Pergamon and Gallus, 1960), while Wörsdörfer went to Jasba (Tuscana and Verona, 1957 and Karo, 1959). Friedegart Glatzle at Karlsruhe was among the few who did both form and glaze design. These tended to be mottled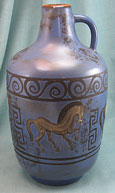 glazes, unlike the abstract or representational work others were known for doing.
Of the porcelain companies, the main attributed works were by Ludwig Lindner for Lindner, Raymond Peynet for Rosenthal (and Rosenthal has always attracted many top designers), and Peter Müller for Sgrafo. Many of the porcelain works featured single color glazes or simple black and white Deco Echo glazes, while emphasis was on exceptional forms ranging from elegant simplicity to bizarre elegance, but somehow elegance always remained a key element once the initial shock wore off.
FORMS and INFLUENCES
At any given time, a high percentage of the forms are very traditional bulbous, ovoid, pitcher, or jug forms done in a simple, classic style with no additions or exaggerations. No matter how much experimentation occurred, the companies never discarded the basics, which is one reason they were able to produce such a broad range. However, influences converged to make Germany a center for experimentation. If the key to real estate is location, location, location, then the key influence in German pottery is Bauhaus, Bauhaus, Bauhaus. Much of the influence can already be seen in the tea service designed by Walter Gropius, which remains in the Rosenthal line today. The clean, slightly exaggerated but well proportioned lines show up on American ceramics from Roseville to Russel Wright and are quite visible on the 313 pitcher designed by Kurt Tschörner for Ruscha in 1954.
While some within the Bauhaus school emphasized following a fairly tight design philosophy, Gerhard Marcks pushed students to experiment. Luckily for pottery collectors, Marcks was one of the design instructors in pottery. The entire Bauhaus school was rather short-lived, forced to close in the early 1930's because the modernist push made members of the Nazi party nervous, and the pottery school had an even shorter life running from about 1920-25. Just as the creativity seemed to be gathering strength and speed, it was repressed for almost 20 years, which may also have supplied some of the energy for the later resurgence in the classic opposite and equal reaction energy equation.
Of course, location also played an important role with Germany bordering Italy, France, and the Scandinavian countries. While that has often caused political tension, it has been a positive force in pottery with Scandinavian pottery reinforcing the clean lines of Bauhaus philosophy, Italian pottery bringing in a Mediterranean palette, and painting styles coming in from France (as Cubism, Picasso, and others influenced pottery in all countries). The Bauhaus school certainly exported influence during its time, but I suspect that time will also reveal that West German pottery was influencing the other countries in ways that will become more clear as West German pottery gets more respect and research.
Experimentation tended to play with asymmetry and exaggeration, but there was always careful attention paid to balance and proportion. Lines might become whimsical or lean to the bizarre, but even as forms appeared to be more complex, that attention to basic elements kept an elegant feeling almost baked into the clay, although that elegance is sometimes not apparent at first glance, or sometimes longer. Pitcher forms were popular throughout the period, and they have a natural asymmetry that was useful as designers could play upon that quality by pulling the form a little or by either exaggerating or minimizing the handle.
Vases tended to lean and twist. Tops were scalloped and sides were pinched or pulled. The results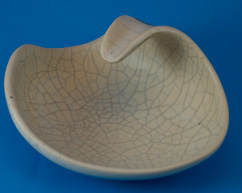 are often similar to the biomorphic glass being produced in several countries by that time but most associated with Murano. Sculptural concerns were outweighing the utilitarian. This was most clearly true in some of the porcelain of the era, particularly the work from Rosenthal, Lindner, and Sgrafo. The general trend seemed to be simply glazes but more stylized forms compared to the heavier ceramics, making good use of the possibilities porcelain offered.
Long a design leader, Rosenthal was producing a variety of modern looks, including "Penguin, "one of the popular and numerous black and white designs. They also produced white crackle-glazed ware designed by Hans Stangl, including stylized figural work. The Lindner designs tend to be simple glazes on highly stylized organic forms, looking like odd hands or rather tree-like, often giving the impression they would look perfectly in place in a Dr. Seuss creation. Sgrafo designs ranged from fairly simple to organics better suited for "Star Trek" than Dr. Seuss, like an odd plant you know you shouldn't touch but can't resist.
Hutschenreuther is rather in between in this case, better known for porcelain dinnerware and figurines

but producing artwares that fit somewhere between pottery and porcelain. They did a variety of forms, including simple bowls and plaques, but their best designs came in the pop-art era, including tower-forms with a broad, thin body. These were done in several variations, including an oddly delightful squashed version. The bowls and plaques are most notable for the glazes and deserve attention, but the tower vases are among the best examples of form.
Much to the chagrin of many current collectors, vases were given single handles for no apparent reason, no matter what the vase shape might be. Ring handles are most common, but the variations are numerous, including some rather Deco examples with angular, sometimes swooping, lines. The handles play mind games with the viewer, and that is probably why designers added them, trying to break assumptions and expectations. Knowing that makes it easier for some collectors to accept the handles, if not appreciate them, and many of the forms were done in both handled and handle-less versions, giving collectors even more options.
As expected in anything influenced by the Bauhaus, there was also a strong architectonic quality to

many of the designs. This was especially clear in the many variations and exaggerations of the ringware form, which were often suggestive of some of the modern, round, buildings that were popular for a time, or sometimes like something straight from "The Jetsons". On the other hand, some of the squared-body forms have the sense of the Art Deco era skyscrapers. And yet, almost all the works have a strong organic feeling, more like something growing from the ground rather than something placed there, or in the most exaggerated forms the ringware vases look like turned wood. In the midst of so much experimentation, there remained a respect for the clay, a surprisingly symbiotic relationship between nature and art in which neither is treated as merely a reflection of the other.

GLAZES AND DECORATIONS
The early decorations tended to be Deco-Echo geometric abstracts, usually in softer shades on a white background glaze with "Domino" and "Milano" from Ruscha as two of the better examples. "Domino" achieved an almost 3-dimensional, Escher-like appearance. As noted, some Bodo Mans designs used stronger colors even during this period, but in general the strongest colors were after 1965. Yellow and black were especially popular, but the palette was fairly broad. In contrast to the white backgrounds, there were also abstract designs done on a black ground. These include "Ulla" from Jopeko (1958), Monaco (1956) and Morocco from Ruscha (1956), and "Kessi" from Ü Keramik (1957).
Showing just how much variety always exists in West German pottery, there were also plenty of tiger stripes, solid colors, and Krösselbach was doing very abstract designs that mixed Deco-Echo black and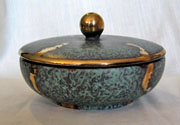 white with very soft earthtones. Several companies also introduced designs with bright gold veining, and these have been getting increased attention of late. These include "Patina" introduced by Fohr in 1955 and "Jaspatina" introduced by Jasba in the same year. Bay, Carstens, and others did similar work but the line names are undetermined.
One of the most distinctive decorations was "Filigrana" created for Ruscha by Adele Bols and introduced in 1960. The design featured a thick, white glaze over a dark background with thin lines incised through the upper glaze to create a rather complex figural abstract design usually featuring a large-eyed female figure, fish, and numerous geometric shapes. With so much handwork, the line was too labor-intensive for commercial pottery and was only produced for about two years.
A major shift in decoration came about 1965 when the commercial potteries began doing lava or volcanic glazes. These glazes fall roughly into three categories. Using the term a little broadly and differently in the first case, some of the drip glazes in this era were extraordinarily thick, giving extra dimension and texture to the vase and often appearing rather like flowing lava. This is particularly true of the orange and red glazes. Some of these drip glazes also have the cratered appearance more often associated with the lava term, which also makes it more plausible to stretch the category a bit for the others.
The second category could be called a pumice glaze with very fine cratering. The pumice glazes are most often done in black and were commonly used by Roth in abstract patterns and both Ruscha and Ceramano were known to use the pumice glaze in controlled geometric patterns. Pumice glazes are also found in brown, and ES Keramik often did a white pumice that strongly suggests the ice crystals in home made ice cream. The heavy drip and the pumice glazes are sometimes found together, which really increases the tactile quality of the vase.
The cratered glazes can be found with sharp-edged, varied craters from some almost small enough for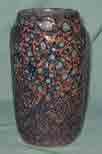 the pumice category right up to craters about 1/2" in diameter. These are usually in two colors, especially with a black underglaze and a colored top glaze, often in unusual blue shades. What seems so far to be a rare volcanic glaze has smooth-edged, fairly large craters with a three color glaze combination.Versions noted so far have a blue underglaze with a pinkish or salmon top glaze. The craters are then ringed with a darker shade of blue that appears to be a reaction between the two other glazes. The result is an eerie, alien landscape that once seen is long remembered. (Note that the section on lava/volcanic glazes is definitely out of date. Read this essay for a better, though limited, look at the volcanic/lava glazes.

In general, the work became more daring from 1965 onward, and this was reinforced by the rise of Pop-art with its bold colors and vitality. The world was suddenly awash in orange from high gloss to matte, lightly tempered with black or brown or side by side with cobalts and purple hues. Somehow, the most outrageous combinations came together. Deep blues were also popular, as were some very rich reds, often combined with black. In the usual West German pottery irony, this period also featured some very fine earthtone glazes, with or without orange highlights.
During the entire West German era, figural decorations were also popular, from some very light "on the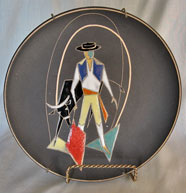 town" designs, to simplified but powerful Cubist looks. However, some of the most popular but certainly not common designs were based on the cave paintings at Lascaux. These were done in every variation from single color painting on a plain background to slip-outlined animals surrounded by lava glazes. Figural designs are much more common on the hanging plates and plaques, which again doesn't mean that the better pieces are common.
The amount of "wall art" is part of what sets West German pottery apart from so many others. Early works by Ruscha, Keto, and Kiechle usually have a matte black background with a bright enamel decoration. Oriental influence is even stronger here than on some of the vase designs, and Oriental motifs featuring people or birds are among the most found. Kiechle seems to be the only company that did similar work on both plaques and vases, producing matte black vases with enamel decoration that seems strongly influenced by Stellmacher. You can also find bolder designs on the plaques, and Ruscha did a later series with red glaze backgrounds featuring horses or horses with chariots.
As usual, the range of style (and quality) is extreme. Karlsruhe produced some floral designs in an Art Nouveau style that could easily be taken for period pieces if not for the company number on the back (and there is a recent book on Karlsruhe that includes the production date and designer for each model number), while also doing designs that were definitive 1970's pop-art. At the abstract extreme, Ruscha (and others) produced 3-dimensional abstract panels that look like alien landscapes, or perhaps something Alice may have encountered in a 1970's version of Wonderland.
However, the master of plaques was Helmut Schäffenacker. Most studio works have not been included here, but Schäffenacker's plaques fit very well with the commercial tradition stylistically. (His vases and other sculptural works are more closely tied to the studio pottery style of the period.) Schäffenacker's plaques most often feature stylized animals with horses and fish among the most popular motifs. The early period animal designs are very much in the mid-century

Deco-Archaic style, while later works included still-life designs, bolder colors, and generally more strongly stylized animals.
Information on most West German pottery remains hard to come by, though it is surely waiting in someone's filing cabinet, attic, or basement. The only book covering commercial ware so far is 50er Jahr Keramik by Horst Makus, which was the primary source for many of the details about designs and designers mentioned here. The book has extensive information with two drawbacks: it is only available in German, and it only covers the period up to about 1964. The book is also out of print, difficult to find, and not cheap. There are works about some of the studio work, but that is largely a distinct movement, interacting with the commercial work at times but never fully connected. Any comment about one is likely to be unhelpful in comparison to the other. (Update: Makus has done several books now, all in German and focused on pre-1965 items. Kevin James Graham has a wide variety of dvds focused on identifying items, but little interpretive or comparative work has been done as of 2013.)

With the help of the internet, collectors are now finding each other, and catalogs are starting to appear, already disproving some attributions. Even though this is relatively recent history, many of the major companies have closed. Scheurich, the largest, remains in business but has kept no official record of the company history. Since most items have only the usual W. German and numbers, attributions are difficult. With the help of some friends in Germany, I had attributed one style to Roth, but one of those friends recently sent me an e-mail telling me that she had found a Rushca catalog........and those vases were in it. There remain more mysteries than answers, but marked pieces and pieces with labels are showing up. That recently included a Carstens vase with a Raymor label. While I had suspected such a connection (and others already took it for granted), this was the first evidence I had a first hand look at.
Luckily, many of the glazes (and some of the forms) are distinctive enough to attribute many pieces to a company when a single identified example shows up. On the other hand, I've encountered very similar works that may well be from different companies, and not even the country mark is always reliable because some items clearly from the W. German era are marked only "Germany" and quite a few have no country mark at all, particularly since it appears many weren't made for export, at least not to the U.S. The biggest mystery remains the simple question of why West German pottery has managed to remain a secret for so long while other items from same era have risen in popularity.
Gin-For's Odditiques
Home Page

E-mail: fdposton@gmail.com

West German Pottery For Sale



View West German Pottery By Company







View West German Pottery by Colors:


View West German Pottery by Height

Floor Vases (14" and taller)

Essays and Information About West German Pottery

West German Pottery: Art Therapy for an Entire Country

Introduction to Lava/Volcanic Glazes on West German Pottery

Gramann, Römhild: Notes on Glazes and Forms (East German Pottery)

Collecting West German Pottery

West German Pottery: Marks, Companies, Designers

Thoughts About Values of West German Pottery

West German Pottery Research Gallery (previously sold items)

Videos About West German Pottery (and more)

West German Pottery News and Updates

Items for Sale (Other than West German Pottery)

Glass

Metal and Misc.

Paintings and Prints

Pottery and Po
More Essays

To Buy or Not to Buy: Going Where the Price Guides End

The Art of Attending Auctions

Tiffanyfakes.com: Review of a Problematic Site

Some Things Just Because



The Cor-purrate Story: Glyph's Rise to Power


The Wolf at the Door: A Tribute to "Fractured Fairy Tales"



Farewell Tribute to a Special Staff Member: The Cat with a Bucket List



About Us and Contact Information



Meet Our "Staff"